Vienna Initiative Full Forum 2018
Annual Full Forum Meeting of the Vienna Initiative, London, 12 March 2018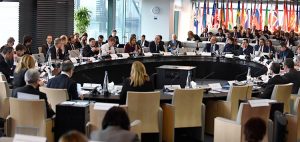 The 10th meeting of the Vienna Initiative 2 Full Forum took place on 12 March at the headquarters of the European Bank for Reconstruction and Development (EBRD) in London. Vienna Initiative partners met to discuss the Vienna Initiative's achievements over the past year, on-going work and to outline the objectives for the initiative for the next year.
At this meeting, the Vienna Initiative has agreed to establish a Working Group on Financing for Innovation to investigate the role of banks and alternative finance providers, including venture capital firms, to support innovative firms in the region through debt and equity products.
During other sessions held at the event the Vienna Initiative looked into investment dynamics in CESEE, priorities and constraints in the region, evolution of NPLs, the further development of capital markets, impacts of the recent EU regulation on the region and also discussed the potential of green finance as funding source banks.
The Forum took note of the positive broad recovery across CESEE and identified a number challenges, notably in relation to investments levels and productivity.
Separately, the Vienna Initiative endorsed proposals for the further development of capital markets in CESEE, crucial for long-term growth. These proposals are set out in a new report, produced by the Working Group on Capital Markets Union, chaired by the European Commission.
After ten years of remarkable tangible success in helping preserve financial stability in CESEE region, the Vienna Initiative remains the first point of contact for many country regulators and banks operating in the CESEE region. It continues to be a useful platform for coordinating public and private efforts in creating new ideas and addressing the most pertinent challenges for financial stability and sustainable growth in Europe. As such the Vienna Initiative established itself as a model of effective public-private coordination.
Participants of the Full Forum included representatives of Albania, Austria, Belgium, Bosnia and Herzegovina, Croatia, Cyprus, Czech Republic, Estonia, Greece, Hungary, Italy, Kosovo, FYR Macedonia, Latvia, Lithuania, Montenegro, Poland, Romania, Serbia, Slovak Republic, Slovenia, and Ukraine; major bank groups operating emerging Europe: Erste, Intesa Sanpaolo, KBC, Raiffeisen, Société Genérale, and UniCredit, National Bank Greece, OTP Bank; as well as the European Commission, the EBRD, the EIB, the International Monetary Fund, the World Bank Group, the European Banking Authority (EBA) and Systemic Risk Board (SRB). The European Banking Federation (EBF), NASDAQ Talinn, Association for Financial Markets in Europe (AFME) and London School of Economics and Political Science (LSE) participated as observers.
Read the full press release here.
Agenda:
Session 1: STOCK-TAKING ON THE ECONOMIC SITUATION IN THE CESEE
Session 2: REPORT ON CAPITAL MARKETS UNION AND UPDATE ON IFI FINANCIAL
Session 3: RESOLVING THE ISSUE OF NPLs – WHERE DO WE STAND?
Session 4: FINANCING FOR INNOVATION
Session 5: IMPACT OF MREL AND CHANGING EU REGULATORY LANDSCAPE
Session 6: FINANCIAL SECTOR DEVELOPMENT AND NEXT STEPS
Read the full Vienna Initiative Working Group CMU Report here.
Presentations are password-protected for Forum participants only.